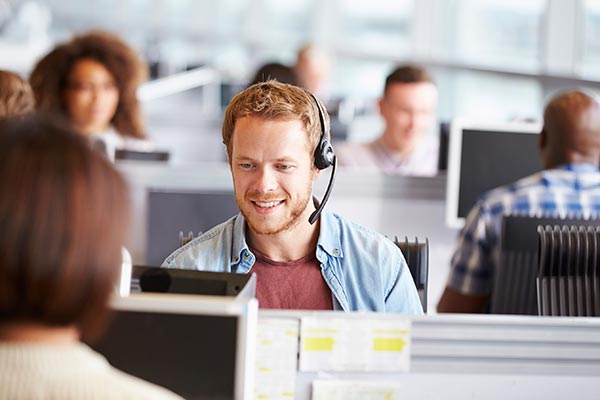 If you're having problems with your computer that require professional attention, then you've come to the right place. We offer expert computer repair services nationwide! Whether you're experiencing failing hardware, you need data recovery services or virus removal, we can fix you up! Have some other type of computer problem? JADE Computer Repair Services has seen it all and can get you connected with a local computer repair shop in your area and in our network.
One of the many benefits of using JADE's home computer repair service, is the availability of remote technical support. This means that we can fix most issues without you having to take your computer anywhere! Depending on your problem, a computer repair technician may be able to connect to your computer through the internet and fix your problem. That way you don't need to travel and nobody has to come to your home! You save the cost of service calls and travel time.
Call Now For Professional Computer Repair & Say Goodbye To Unwanted Computer Problems:
(855) 445-8096
But I'm Looking for Computer Repair Near Me?
When your "computer repair near me" problem can't be solved remotely via internet and phone, we can also offer you in-home technical support. This includes Windows® computer repair, Apple® computer repair, wireless router configuration, hard drive data recovery services, and other computer repair shop near me services for desktops, laptops, and more. Our remote access staff is available 24/7 as well, so no matter what time of the day or night you have a problem, you can call us for immediate computer assistance!
What About Macbook Pro Repair? Do You Do Apple Computer Repair Too?
If you've been searching for MacBook Pro repair near me, your search is over! Yes, we do Apple computer repair of all kinds and that includes Macbook repairs as well. The best part is that there's no need to stand in line at the Apple store waiting behind a dozen other customers for "your chance" at getting support. You won't have any kind of long wait with JADE Macbook Pro Repair.
All Mac computer repairs are performed in a timely manner with little to no wait time at all. As with our Windows repair services we would connect to your Mac remotely and fix it without need to take it anywhere. Our technicians have about a 75% to 80% success rate with Mac computer repairs that are done online through remote access.
What Kind of Data Recovery Services Do You Offer? Do You Have Data Recovery Services Near Me?
JADE Computer's Data Recovery Services is limited when accessing your computer through a remote access connection. We are limited to the Operating System configuration and any backup services you may have had a subscription to before your hard drive crashed.
We have a much greater chance of recovering your data if you bring your computer in to one of our local computer repair shops where we can physically work on it. Sometimes customers mis-diagnose their computer problem and don't even need our hard drive data recovery services. If our technicians don't have any luck remotely, your best bet is to visit us in person.
If your data is very valuable, and our data recovery service can't recover it, we can send your hard drive out to a very expensive 3rd party data recovery service. Prices for that service start at $995.00 though.
Do You Have Business Computer Repair In My Area?
Are you a business who needs local computer repair services as well? This is yet another area we cover and can offer computer support immediately! You can rely on JADE Computer Repair Services 24/7! Some of the areas we can offer a business technical support in include: server setup and installation, online and off-line backup solutions, router & firewall setups or configuration changes, or a complete off-site IT support solution. If you like we can offer monthly support contracts a little cheaper than our break-fix call-in pricing. Call us for complete IT support details!
While we can connect you with local computer repair services nationwide, some small towns may not have a shop within our network. Please check the list below to see if your city is covered. If you don't see your city listed, you can still call us at (855) 445-8096 to make sure.